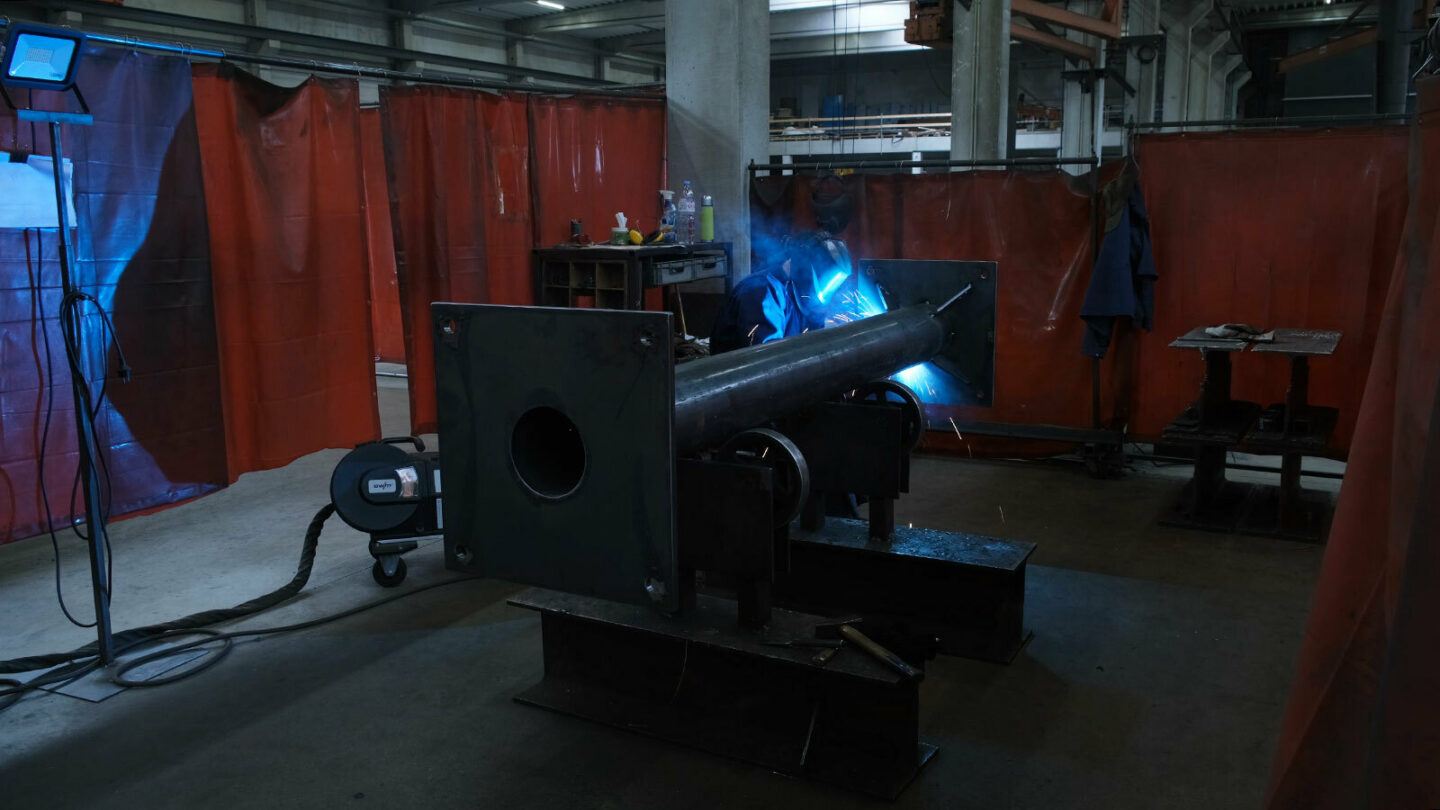 Construction & Assembly in workplace
In this phase we manufacture the end products professionally, completely to size. This all happens in-house in our new and modern workshop under EN1090 EXC2 certificate.
As a metal construction company we supply end products in various types of steel, stainless steel, aluminum and copper, and this with different surface treatments:

Steel S235 en S355
Possible surface treatments:

galvanizing according to NEN-EN-ISO1461

blasting + powder coating
blasting + wet painting
blasting + metallizing

Inox or stainless steel 304 en 316
Possible surface treatments:

grinding (until K320)

staining
passivation
electropolishing

Aluminum

Possible surface treatments:

Anodizing in natural color

Anodizing in different colors (green, black ...)


Copper/messing/bronze
Possible surface treatments:

Electrolytic tin plating

Standard tin plating
What does our machinery consist of?
CNC vertical drilling and tapping center (plate thickness 150mm, plate size 3000 * 700mm)
Plasma burner (maximum burning thicknesses: steel S235 50mm)
Plate rolling machine (maximum width to roll: up to 2m length)
Profile bending machine (e.g. for stair railings)
CNC press brake 135 ton 3m with controlled back gauge (bending machine)
Press brake 90 ton 3m (bending machine)
Weld edge preparation machine thick plate (plate 20mm)
Deburring machine thin sheet (deburring sheet 1 to 3 mm)
Tapping machines (taps M3 to ...)
Circular saw
Sheet metal shears with controlled back stop (cutting S235 to 10 mm lg 3000 mm)
Drill presses
Band saws (maximum 470 * 470mm profile to be cut)
MIG / MAG Welding machines (semi-automatic)
TIG Welding machines


Assembly/welding/cutting torch
On-site with different assembly teams
We have our own assembly truck with a Palfinger 40 tonne-meter crane with unique height and swing limitation.

Vertical: 29m
Horizontal: 25m (1 ton)
Winch
Fast conversion possible to a platform of 29m for max. 2 persons
Collaboration with external crane suppliers
Collaboration with external aerial platform suppliers
Own welding material and electrical group for autonomous MIG / MAG welding
Own cutting burning material for autonomous cutting burning


What types of operations can we offer?
Customized turning
Milling yard (plate thickness 150mm, plate size 3000 * 700mm)
Drilling (plate thickness 150mm, plate size 3000 * 700mm)
Bending work up to 3m (thickness 8mm steel)
Punching work up to 6m (thickness 12mm)
Sawing work up to 470 x 500mm


Deliveries
Own truck with possibility to unload
Two open vans (chassis cab) with crane with the possibility of unloading
Deliveries until 1500kg at a time
Unloading possibilities until 1000kg

Also view our other services